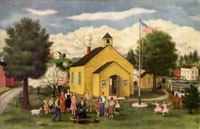 Families of Faith Christian Academy International is an accredited private school dedicated to helping those families that take personal responsibility for the education of their children.
2015-2016 Enrollment Forms
Family Enrollment Form Student Enrollment Form
Adult Student Form Click here for details on the Adult Student Program
The Vision of Families of Faith Christian Academy Internatonal (FOFCAI) is to be a helper to families that actively direct the education of their children. This vision is clearly seen in our school verse,
"Not for that we have dominion over your faith, but are helpers of your joy: for by faith ye stand."
II Corinthians 1:24
While national academic standards are becoming more defined each year, the specific needs of individual students and families cannot be met merely by providing a list of desired benchmarks or outcomes. Each student is unique, so the tools and resources engaged by his or her family to meet the high calling of academic excellence require planning and assessment. FOFCAI is designed to give families the flexibility to design a program that will meet their student's specific needs, within the scope of credible standards. These options include, but are not limited to:

»Accredited Distance Learning Program (Same content and standards as the campus program)
»Individual Tutoring in person or on-line
»Dual Enrollment courses
»E-Learning Interactive Curriculum
»Virtual Learning Labs

To learn more about Families of Faith Christian Academy International, you can jump to our Academy Overview Page, or explore the links on the left to navigate to the different sections of the web site.
Florida Department of Education assigned code number is: 1375
SAT/ACT testing code or CEEB number is: 100-829

Accredited by FCCPSA, The Florida Coalition of Christian Private Schools Association, Inc. It is one of only fifteen accrediting agencies in Florida that is listed as approved by the FLDOE and FHSAA, the Florida High School Sports Association, to accredit schools that wish to play sports in the state league.